Welcome to Mid-Pacific Post 1 Guam
(The oldest American Legion Post in the Western Pacific)
The American Legion is the nation's largest veterans' organization representing over three million men and women who have served in this country's armed forces during time of conflict. The American Legion was chartered by Congress in 1919 as a patriotic, mutual-help, war-time veterans organization. Today, there are nearly 15,000 American Legion Posts worldwide, organized into 55 Departments, one each for the 50 states, the District of Columbia, Puerto Rico, France, Mexico, and the Philippines.
Established on August 26, 1930, the American Legion Mid-Pacific Post-1 is believed to be the oldest American Legion post in the Pacific Rim. The post survived the Japanese occupation of Guam, December 1941 through August 1944, disestablishment and re-establishment and today survives as the only American Legion Post on the American territory of Guam. Click HERE for a history of the post. Mid-Pacific Post-1 proudly supports all veterans and active duty military personnel residing, stationed or visiting the U.S. territory of Guam where America's day begins. The Post Home and canteen is conveniently located in central Guam less than 5 minutes walk from Guam Premiere Outlets (GPO). Fellow American Legion members, veterans and active duty military and U.S. Merchant Marine are always welcome. Membership meetings are held the 1st Saturday of each month at 11:00 AM in the Post home.
Post Canteen – Welcomes Members, Veterans and Guests
The best bar and food prices on Guam.
Open from 8:00AM to 2:00AM daily.
Breakfast served from 08:00 AM starting at $4.00.
Internet juke box, pool table and Golden Tee golf.
Watch the latest sports on our 3 big screen TV's.
Live music every other weekend.
Check the Calendar of Events for details.
"Burn Your Own" Steak
Tweet


Choice of New York, ribeye or porterhouse.
Includes salad, potato and all the trimmings.
The 2nd Saturday of each month.
Sign up and pay no later than Wednesday.
On premises consumption only – no take-out.

Donation $12.50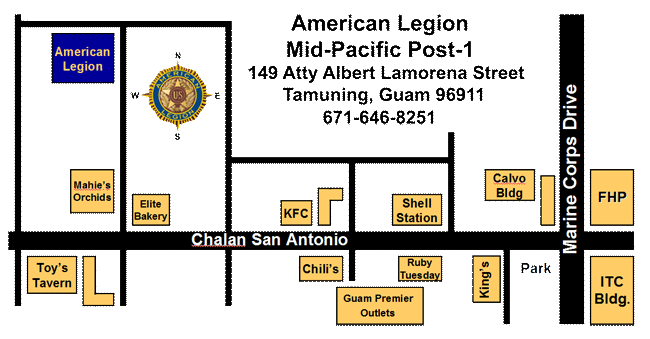 Preamble to the Constitution of The American Legion
For God and Country – We associate ourselves together for the following purposes: to uphold and defend the Constitution of the United States of America; to maintain law and order; to foster and perpetuate a one hundred percent Americanism; to preserve the memories and incidents of our associations in the great wars; to inculcate a sense of individual obligation to the community, state and nation; to combat the autocracy of both the classes and the masses; to make right the master of might; to promote peace and goodwill on earth; to safeguard and transmit to posterity the principles of justice, freedom and democracy; to consecrate and sanctify our comradeship by our devotion to mutual helpfulness.